TerraZyme™ Digestive Enzyme Complex:
TerraZyme is a proprietary blend of ten active whole-food enzymes that are often deficient in cooked, processed, and preservative-laden foods. TerraZyme includes a variety of whole-food enzymes that help with digestion of proteins, fats, complex carbohydrates, sugars, fiber, and other food nutrients.

TerraZyme also includes a patented Enzyme Assimilation System of whole-food minerals that are necessary cofactors for enzymatic activity throughout the body.
TerraZyme's powerful combination of whole-food enzymes support optimal health by promoting more efficient digestion of food nutrients and by reducing the demand for internal production of digestive nutrients. This frees your body's resources for optimal levels of metabolic enzyme production and activity.
TerraZyme can also be used as targeted support for specific food intolerances of proteins, fats, and carbohydrates such as lactose.
TerraZyme is safe to use with every meal, every day by all members of the family. It includes the Tummy Tamer Blend of peppermint, ginger, and caraway seed extracts to promote gastrointestinal comfort for those using TerraZyme for targeted digestive health.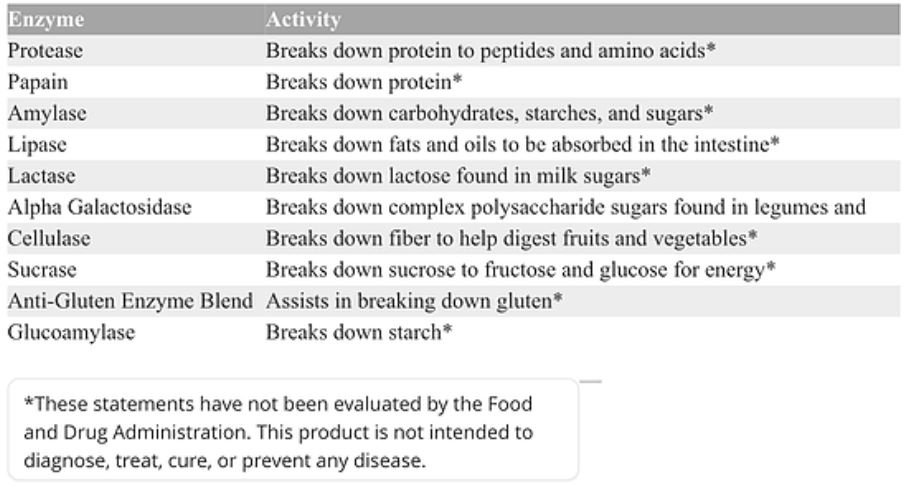 Primary Benefits:
Supports healthy digestion and metabolism of enzyme-deficient, processed foods
Speeds conversion of food nutrients to cellular energy
Promotes gastrointestinal comfort and food tolerance
Supports healthy production of metabolic enzymes
Provides important mineral co-factors for systemic enzymatic activity
What Makes TerraZyme Unique?
Proprietary blend of eight active whole-food enzymes
Patented† Enzyme Assimilation System of essential whole-food mineral cofactors including 72 trace minerals
Contains the Tummy Taming Blend™ of peppermint, ginger, and caraway seed
Whole-food formula made with sodium lauryl sulfate-free HPMC vegetable capsules
Safe to use by everyone in the family
Who Should Use TerraZyme?
TerraZyme is formulated for use by all members of the family desiring supplemental wholefood enzymes. TerraZyme is an excellent product for individuals with specific food intolerances resulting from digestive enzyme deficiencies.
TerraZyme is an excellent addition to the monthly Lifelong Vitality supplement program of Alpha CRS+™, xEO Mega™, and Microplex MVp™.

GET 25% OFF:
CLICK HERE, then click the Join & Save button at the top to save a whopping 25% on ALL products with your $35 Wholesale membership with lots of money-saving perks. Got questions? Call a ThinNow coach at 1-888-424-5220.
*These statements have not been evaluated by the Food and Drug Administration. This product is not intended to diagnose, treat, cure, or prevent disease.